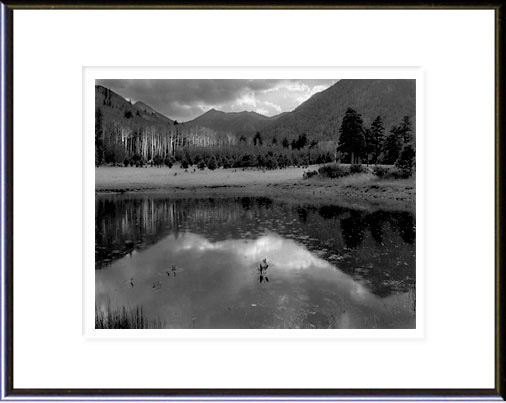 Lockett Meadow, Arizona
During a photographic trip to Northern Arizona amid a the time when summer segues into autumn, as waves of cool air and the rays of the sun mix together into an Indian Summer elixir, I discovered a pond that was brimming with aquatic life. It's surface reflected mirrored layers of nature's luminous reflections encompassing the pond.
The scene that had unfolded in front of me was exhilarating. Quickly I set up my camera, gathered exposure information, and released the shutter to record the beauty displayed in front of my lens. At once, I flipped the film holder over sensing the ever-changing light combining with a variety of patterns that the weather and the pond were sharing with me would offer yet another view.
As I removed the dark slide to make a second exposure, it began to rain. I covered my camera with my dark cloth to shelter it from the shower, but as I did the stormy sky parted allowing me a peek at a storm cloud that reflected a luminous quality of the squall light upon the pond, as the raindrops created beautiful patterns to embellish the blustery moment.
At this moment in time I made my second exposure, making sure that my dark slide was under the protective cover of my dark cloth so as not to get wet, which would ruin the exposed sheet of film.
This was the only exposure of the rainstorm that was possible before a drenching cloudburst. I safely packed my camera into my car, and enjoyed the high of such a breath- taking moment in time.
My flavor of film was Kodak's 100TMax sheet film exposed at f/45 at 1second, which was sufficient enough to hold the pattern of the raindrops on the pond's surface.
I had used an old processing technique called SLIMT to develop this negative, and have made a small number of first edition prints. When these sell, you will have to wait until the next stormy autumn day for me to make an additional edition print of this photograph. I need to feel the mood of the moment, or it the print just wouldn't be right.
This photograph is truly breathtaking.
* Hand Printed by photographer Roy Pope on 11x14 silver-gelatin photographic paper
* Selenium toned and processed to archival standards
* Print sizes are approximate
* Mounted and overmatted to 16x20 finished size with 4ply archival rag board
* Each print is signed and dated on the mount, and has identification information on verso
ID# 45-05-30-4
Price: $300.00 each
Free Shipping with the purchase of any print!