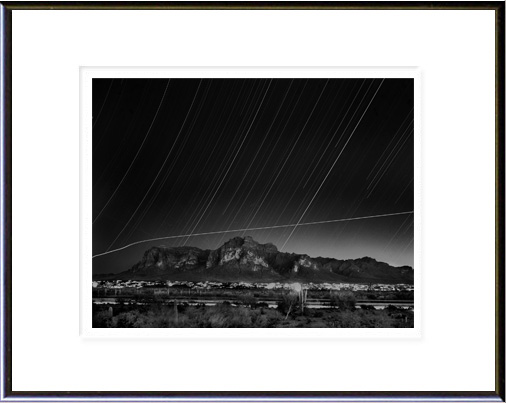 Quadrantid Meteor Showers over the Superstition Mountains, Apache Junction Arizona
The Quadrantids Meteor Showers were named for the constellation Quadrans Muralis, which no longer exist. Astronomers speculate that a near earth "asteroid" may be the reason for this yearly meteor shower that occurs during the winter season. This time of the year night and day are about equal in Arizona.
To accomplish the photograph that is displayed, I had tested film exposure during a full moon. However, it was fortunate this event happened during the first quarter moon; using the earth as my gobo, and the glow of the lights from the neighborhood in the foothills to provided fill light illumination, the exposure for 4x5 Tri-X film was f/8 at 12 hours, processed N+1.
A winter's night in the desert is magical, and during this night it was filled with quiet noise. The scene was in front of my lens, the drama - recorded onto my film.
The term "difficult" represents this period of our time. If "difficult" could be set aside momentarily, then briefly fill your senses with the epiphanic photograph of the Quadrantids Meteor Showers
* Hand Printed by photographer Roy Pope on 11x14 silver-gelatin photographic paper
* Selenium toned and processed to archival standards
* Print sizes are approximate
* Mounted and overmatted to 16x20 finished size with 4ply archival rag board
* Each print is signed and dated on the mount, and has identification information on verso
ID# 45-09-1-1
Price: $300.00 each
Free Shipping with the purchase of any print!